Agriculture, Construction and Farming Solutions
Farming, Construction, Earth Moving Equipment & Machinery
Agricultural, Construction, and Earth-moving equipment (A/C/E) that'll preserve the asset through the most difficult farming, building, and digging. We understand that A/C/E industries are highly susceptible to excessive deterioration, roughness, corrosion, grease, and the elements. Hence, why we only provide high performing top A/C/E coatings solutions for application.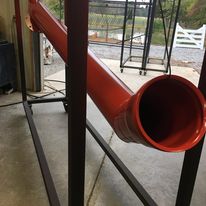 Equipment, whether it is used for industrial purposes or personal usage, is prone to wearing out faster due to constant exposure to harsh weather conditions such as extreme temperatures, wind and rain, snow and hailstorms, continuous exposure to corrosive chemicals such as acids, or being subjected to rough use and physical contact. This can result in shortening of their useful life span, frequent repairs, and maintenance costs.
However, the use of long-term coatings on such equipment, even after being subjected to these harsh conditions, would help extend their life span by providing protective barriers against these as well as other environmental factors. This means that equipment owners, industrialists, and all other users of such equipment can rest assured that their equipment is covered for a longer period, thereby saving time, money, and resources that would otherwise be spent on replacing, repairing or maintaining the equipment.